A Few Thoughts on Andy Skurka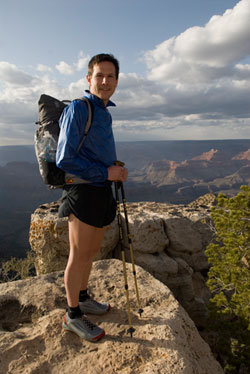 Andy Skurka completed his 6,875-mile Great Western Loop on Saturday when he returned to Grandview Point on the Grand Canyon's South Rim after six months of hiking. After reading the facts in the press release supplied by his sponsor GoLite and poking around on andrewskurka.com I have a few thoughts about Andy and his feat:

1. Self-Sufficiency and Purpose: Andy averaged 30 miles per day for seven months. That's more than a marathon a day. He did it carrying all of his own gear in a modified GoLite Jam2 pack for an average pack weight of 12.7 pounds (you can read his GWL gear lists for what he used on each section of the hike). And he did it to benefit an important cause—highlighting the effects of global warming in our wild lands, including 12 National Parks and more than 75 wilderness areas.

So I've got to wonder, why does someone like ultra-runner Dean Karnazes get so much media attention for stunts like last year's 50 marathons in 50 days, which benefited no one but himself and wasn't even a first, while Andy's recognition has been limited largely to the hiking and backcountry community? I can't even imagine all the fuel and other resources that went into arranging Karnazes's event, and to what purpose? He may be a very nice guy, but I just don't feel the inspiration. Instead let's recognize the accomplishments of outdoorspeople like Andy who pursue goals larger than themselves for more important purposes.

2. Diet: I'm a pretty basic eater on the trail and am known to love a good energy bar or candy bar, but I was surprised by just how much Andy's trail menu relies on bars—breakfast is three bars, four of his six daytime snacks are two bars each (that's eight more bars), then an easy hot meal for dinner—for 11 bars a day. Obviously he knows what works for him and his body and he explains it well. I was left craving oatmeal (of course that would require more fuel), or at least some peanut butter after reading it.

3. Going to Great Lengths: I loathe the term "extreme." It is overused and trendy and rarely does justice to any true accomplishment. But Andy truly went to great lengths on his Great Western Loop and while I've never met him he sounds like a nice guy who actually believes in his role as a "GoLite on the Planet" ambassador.
So congratulations, Andy! Here's hoping you'll inspire more people to find ways to go lighter on our planet.