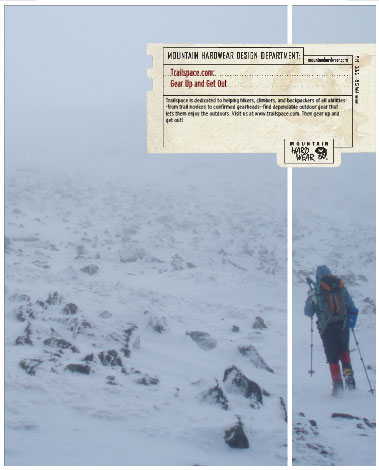 Mountain Hardwear is running an Ad Deadline Challenge (aka contest) now through April 6. Go to addeadline.mountainhardwear.com. Layout in the template a photo or two of your Mountain Hardwear gear in action. Add some copy.
You could win a $1,000 Mountain Hardwear shopping spree and see your ad in Rock and Ice magazine. Four first prize winners will get a $500 Mountain Hardwear shopping spree.
Entries will be posted for public review and comment, so you can also help judge the competition, though Mountain Hardwear will ultimately choose the winners.
On the right is my own, unsubmitted, mockup. Think you can do better (like actually showing some Mountain Hardwear gear in your pictures)? Try your hand at addeadline.mountainhardwear.com. Then you can print copies, pretend you're a Mountain Hardwear athlete, and impress your friends.