Do Campgrounds Need Wi-Fi?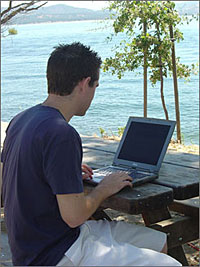 From the April 10th USA Today:
State Parks Blaze Trails for Wireless Internet Service
Outdoor enthusiasts may dislike the idea of a laptop in every tent, but the number of state parks with wireless Internet service is growing rapidly.
State officials say park users want Wi-Fi, so parks are installing it in campgrounds, lodges and visitors centers. Some states, including Tennessee and Kansas, plan to equip every park with it.

The paper found that 28 states have installed Wi-Fi in at least one of their parks. Read the full article to see if yours is one of them.
Then, tell us what you think of this trend. Is it a sign of the outdoor apocalypse, or are state parks simply meeting the needs of more potential outdoor enthusiasts?