Can you pass these survival quizzes?
A recent Outside Online survival quiz (which I failed miserably) inspired me to surf the Web for similar tests of outdoor intelligence. Note these are highly addictive, but you'll have an excuse when the boss busts you: it's the surest way to make sure you show up for work every Monday. What's out there: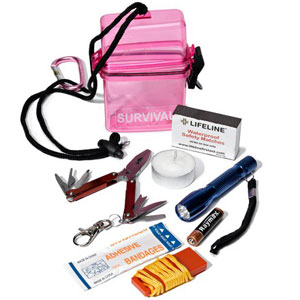 Lost At Sea -- You're on a sinking yacht and you must choose the six items most likely to keep you alive from a list of 15. Best way to play: keep tweaking your collection for highest score (freebie: ignore the sextant).
Sgt. Safari's Survival Quiz: 21 questions that cover most of the basics; you can find out where you erred at the end but it doesn't review all the ones you got right, so you don't learn from your guesses. (Freebie: Red touches yellow, you're a dead fellow).
Could You Survive? This is the easiest of four Discovery Channel survival quizzes I found. Three "Life or Death Games" are a bit more challenging, but also more annoying: every time you miss a question, you die and have to restart the game from scratch. The scenarios: Jungle | Lost at Sea | Snow Survival (Freebie: what works for the bear does not work for the wild dog).
Survival-Quiz.com -- So you're fine for a night in the woods; how would you fare after a nuclear attack? This site has the widest range of survival quizzes; the basic quiz is pretty easy.
Wilderness-Survival-Skills.com -- By now you can probably ace the Basic Wilderness Survival Quiz; the Advanced Quiz, however, left me with a digital dunce cap. (Freebie: it's better to cook bugs before you eat them).
Unluckiest Hunter in the World: Field & Stream magazine created this scenario imagining a hunter lost in a whiteout, among other troubles. It's among the hardest -- and most instructive -- of the bunch. (Freebie: Birch bark shavings make the best tinder). The Cold Weather Challenge is much easier.
Rule of 3's - This basic test has the most extensive "Rule of 3's" coverage. Easy if you know them; harder if you don't. (Freebie: A Bic lighter trumps dry matches).
...
Got all that? Good, now you're ready to bone up on surviving a zombie infestation.
...
Further study:
Our Skills Books section has a bunch of titles devoted to survival and first aid.