The golden age of the bottle opener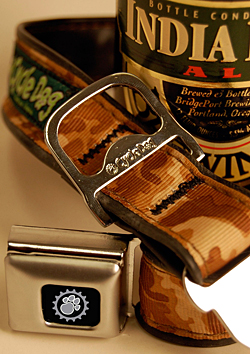 In recent years, I've watched bottle openers migrate from the standard multi-tool to appear on technical backpacks, ice axe adzes, and belt buckles. But, the Pup Top from Cycle Dog is the first I've seen on a dog collar. One presumes the feature is for Fido's opposable-thumbed owner.
Cycle Dog, based in Portland, Oregon, makes dog collars and leashes from reclaimed bike inner tubes. In addition to making recycled gear by hand in Portland, they get credit for being the first outdoor company, amid a flurry of press releases, to catch my interest in advance of January's Outdoor Retailer trade show. And I don't even own a dog.
Dog walkers wanting to celebrate New Year's Eve during a midnight stroll will have to tote along a separate bottle opener a little longer though. The Pup Top leash attachment won't be available till mid-January 2010.
A medium or large plastic buckle collar with Pup Top will retail for $23. Cycle Dog's new seatbelt-style steel buckle collar with Pup Top (at right) will retail for $25. www.cycledog.com