$40K of gear up for grabs in outdoor treasure hunt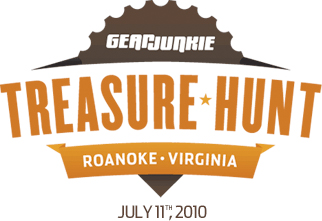 If you live near Roanoke, Virginia, enjoy a good scavenger hunt in the woods, and wouldn't mind winning your share of $40,000 worth of outdoor gear, here's an event for you. On Sunday, July 11, GearJunkie.com and RoanokeOutside.com will host a one-day-only treasure hunt in Explore Park in Roanoke.
The event "will blend elements from adventure racing with a substantial gear scavenger hunt," says GearJunkie founder Stephen Regenold.
More than $40,000 worth of outdoor gear is up for grabs. The 300 event participants each will be given a map and sent on a two-hour treasure hunt/off-trail orienteering race to locate hidden orienteering flags using a compass and/or GPS receiver. Each flag found scores a point. Points can be cashed in for gear prizes, from backpacks to kayaks.
You can get more info or register for the event at: gearjunkie.com/treasure-hunt-roanoke