Last Week: Review Your Gear to Win a Kelty Tent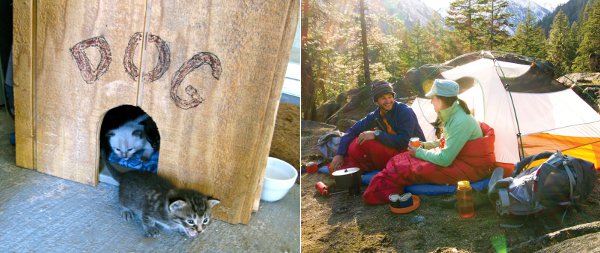 Next week we're giving away a Gunnison 3.2 tent to one lucky reviewer, thanks to Kelty. Review your outdoor gear by Sunday, June 23, and you're entered to win a new tent for summer backcountry adventures ($250 value).
At approximately 6 pounds, with room for you and two of your camping companions, the Kelty Gunnison 3.2 tent has very high FTW ratio (fun-to-weight ratio). It made us wonder how the three-season, freestanding Gunnison 3.2 (above right) compares to another shelter with a high FTW ratio, a doghouse filled with kittens (above left).
Doghouse
(w/ Kittens)


Kelty Gunnison 3.2 Tent
(w/o Kittens)


Heavy and immobile: Weighs more than 6 pounds and can't be packed easily on your back.


Light and compact: Weighs approximately 6 pounds and stuffs down into a package 8 inches wide and 22 inches long.

Kittens not included, nor recommended as backcountry companions.


Designed for dogs, but accommodates at least two kittens.


Designed for, and accommodates, three backcountry campers.


Not recommended for those with pet allergies.


Two doors and two vestibules, plus a gear loft, dye-free canopy, noiseless zipper pulls, and tons of mesh for summer.


To win the Gunnison 3.2 tent:
Review your gear now, through Sunday, June 23. Every review of your outdoor gear, apparel, or footwear you share counts as an entry, and helps other outdoor enthusiasts.*
That's it! On Monday, June 24, we'll randomly draw one very lucky gear reviewer.
We'll also throw in a Trailspace Trail Runner Cap to wear on your outdoor travels.
Review your gear to win your own Gunnison 3.2 tent.

*Important Bits: Must be a registered Trailspace member (not guest) to win (join as a member now). Each valid outdoor gear review counts as an entry. Incomplete reviews and reviews less than 75 words may be disqualified at our discretion. We will contact the winners via private message on Trailspace.com the day of the drawing. If winner doesn't reply within six days, we'll draw a new winner. See full Write-a-Review Giveaway rules.