Win Water Filters for Every Trip, Plus a Year of Insect and Sun Protection from Sawyer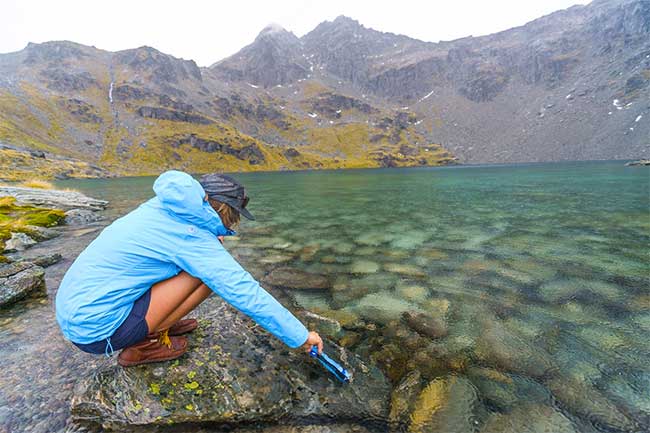 Whether you're headed on a solo hike or trail run, traveling abroad, or preparing for a family paddling or backpacking trip, water is essential wherever and however you adventure.
To keep you hydrated, we're giving one reviewer an assortment of Sawyer water treatment solutions suitable for everything from ultralight trips to family and group excursions. Our winner also will receive a year's supply of insect repellent and sun protection—that's more than $450 worth of outdoor essentials, all thanks to Sawyer.
Review your own outdoor apparel, footwear, or gear today and you're automatically entered to win this impressive Sawyer prize package.
Enter to Win:
Write a review now through Sunday, April 29, of your backcountry gear, apparel, or footwear.
Every complete, qualifying review received April 1-29 counts as an entry.
You're automatically entered!
On Monday, April 30, we'll draw one eligible gear reviewer to win this Sawyer prize.
Sawyer Water Solutions
Sawyer's lineup of 0.1-micron water solutions ensure reliable access to water on any outdoor trip. Lightweight and portable, they require no pumping, no chemicals, and no waiting.
One winner will get ALL of the following to cover their water treatment needs:
Sawyer Insect Repellent and Sunscreen
Our winner also will receive a year's worth of insect repellent and sunscreen from Sawyer ($307 value), including:
Permethrin Insect Repellent Treatment for Clothing, Gear, and Tents not only repels insects, but will kill ticks, mosquitoes, chiggers, mites, and more than 55 other kinds of insects. Spray on clothing, tents, and other gear (four 24-oz bottles, $72 value).
An assortment of Sawyer insect repellents, including Picaridin lotion, spray, and packets, Ultra 30, and Controlled Release ($156).
Stay-Put SPF 30 sun protection to keep you comfortable and protected all day long ($79 value)
Review your gear today and be entered to win.


Void where prohibited. Contest open to residents of continental United States only. See Trailspace's Write-a-Review Giveaway rules for other rules.