Win a Helle Wabakimi Knife by "Survivorman" and a Kupilka FireSteel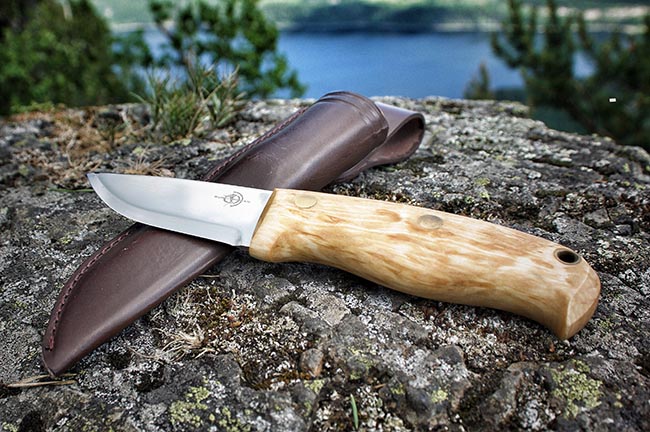 photo: Camilla Nilsen/bushcraftandcoffee
On Monday, October 21, we're giving one Trailspace member a Helle Wabakimi fixed-blade knife designed by "Survivorman" Les Stroud, plus a sustainably-produced Kupilka FireSteel 8.
Review your gear today and this essential outdoor gear, worth $200, could be yours.
Enter to Win:
Write a review now through Sunday, October 20, of your own outdoor gear, apparel, or footwear.
Every complete, qualifying review received October 1-20 counts as an entry. Yes, you're automatically entered!
On Monday, October 21, we'll draw one eligible gear reviewer to win this Helle knife and Kupilka prize package.
---
Helle Wabakimi Knife
Helle has been making knives in Holmedal, Norway, since 1932. Its Wabakimi is a Scandinavian-style, fixed-blade designed in collaboration with survival and primitive skills expert "Survivorman" Les Stroud.
A medium sized, well-balanced knife, the Wabakimi is small enough for hip carry, yet amply sized for precise cutting and long carving sessions.
It features a 3.3-inch drop point blade made from triple laminated steel, and it has a three-quarter, partial tang reinforced with two robust pins. The curly birch wood handle includes a lanyard hole. A leather sheath is included.
The Wabakimi is the third Helle knife designed with Stroud, fitting between the larger Temagami wilderness knife and the light and compact Mândra neck knife. Stroud field-tested numerous prototypes of the Wabakimi over months to produce its final design ($184).
Kupilka FireSteel 8
For easy fire-making, even with gloves on or in humid weather, the Kupilka FireSteel 8 creates serious sparks up to 3000 degrees Celsius.
Made in Finland, the sustainably-produced FireSteel 8 features a European ferrocerium rod, an ethically-produced reindeer leather cord, and a compact striker that's a byproduct of the metal industry.
It was designed in collaboration with Karu Survival, Finland's leading company specializing in teaching bushcraft and survival skills. Weighing 1.66 ounces, there's no excuse to leave this essential behind ($21).
More Gear to Give Away:
Thanks to Hults Bruk, Helle Knives, Nordic Pocket Saw, and Kupilka, we have even more premium Scandinavian gear to give away this month.
Last week, Bob Peltzer from Ontario, Canada, won a hand-forged Akka forester's axe plus grinding stone from Hults Bruk. And on Friday, November 1, we're giving another Trailspace member a Hults Bruk Jonaker hatchet ($129) and a Premium Nordic Pocket Saw ($119).
Just review your own gear today and you're entered to win for the entire month.
Void where prohibited. Giveaway open to residents of North America only. For Prize #1 we drew one winner from all complete, qualifying reviews received October 1-10. For Prize #2 we'll draw one winner from all complete, qualifying reviews received October 1-20. For Prize #3 we'll draw one winner from all complete, qualifying reviews received October 1-31. See Trailspace's Write-a-Review Giveaway rules for other rules.