Scared Indoors: Does the Media Affect Outdoor Interest?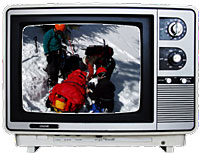 Ever think that the mass media's portrayal of the outdoors and its "extreme" activities bears no resemblance to your own enjoyable hikes, backpacks, and climbs? When the mainstream media does cover the outdoors, the stories tend to feature life-and-death struggles rather than the personally fulfilling, but far-less-dramatic, aspects of regular outdoor travels.
So, do these portrayals affect people's interest in getting outdoors, where bears, avalanches, and other scary things might lurk in the dark?
Steve Sergeant of The WildeBeat explored this issue in his podcast last week. The program included comments from Richard Louv (Last Child in the Woods), Fitz Cahall (The Dirtbag Diaries), Ryan Jordan (Backpacking Light), and long-distance hiker Andy Skurka. You can call in your comments for part two, which airs later this week.
Or share your thoughts below.
Listen at "Scared Indoors, part 1" (The WildeBeat, February 21, 2008)
Via Two-Heel Drive